Activists in Springfield are celebrating recent victories. Bank CEOs who make millions of dollars a year wanted to evict poor people from their homes. Because of grassroots activism, they failed. Earlier this year, a group known as Springfield No One Leaves (SNOL) held a rally outside the home of Deb Graham, who Chase Bank was trying to evict. "Chase Bank heard the message loud and clear," said Malcolm Torrejón Chu, an organizer with the group. "Deb just bought her home back for $100,000 – a 44 percent principal reduction -- and her payments are $650 less than before the foreclosure."
Graham said, "If it hadn't been for SNOL, I don't know what would of happened. I credit SNOL's community for saving my life."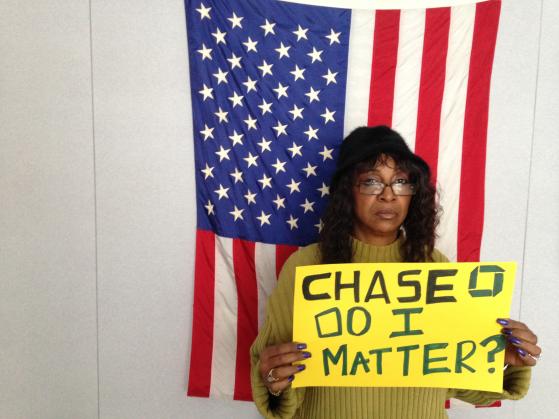 Deb Graham
photo by SNOL
--------
Bank of America (BOA) told Eunice Waweru her mortgage payments would go up. "Working with SNOL Eunice turned down the offer and demanded that BOA give her a loan modification with principal reduction or else she would fight the eviction until the end," Chu said. "Her courage and determination paid off. Bank of America backed down and approved her for a loan modification with a $130,000 principal reduction – a 53 percent decrease -- and lowered her payments by $611 a month."
------
Eunice Waweru
To enlarge photo, click on it.
photo by SNOL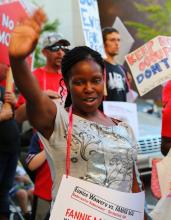 Waweru said, "Don't give up! When you're by yourself, you don't know what to do and want to give up. But when we join together we are strong. Joining SNOL gave me the strength to keep fighting and to win my demand."
On October 23, the group will hold a rally at 10:30 a.m. at 190 Thompson Street in Springfield. The public is welcome to attend.
The group has a web site at www.SpringfieldNoOneLeaves.org.
SNOL has had several other victories. An article, with a photo, about another one of these victories is at:
www.valleypost.org/2012/10/14/photo-springfield-victory
The same group organized a march and rally in 2011 in Springfield that was attended by hundreds of people. At that rally, 15 people were arrested for non-violent civil disobedience at Bank of America. Photos are at:
www.valleypost.org/2011/11/21/15-activists-arrested-springfield